Client:
Queen Victoria Market
What we did:
Created the concept, design, photography, photo editing, researching, interviewing and writing all editorial components, coordinating all elements of the print and distribution of the periodical, designing and uploading advertisements, AND creating visual displays throughout the Market
The challenge
In 2009, SMG won the right to produce a magazine that showcased the vibrancy and diversity of the iconic Queen Victoria Market (QVM).
The process
QVM is more than a place to buy fresh food, knickknacks and an array of discounted goods—it is a tightknit and thriving multicultural melting pot of gourmets and gourmands, food-servers and food-lovers, enthusiastic collectors, family-owned businesses that have been passed down through the generations, small start-ups and pop ups selling handcrafted items. SMG worked closely with QVM to produce 18 issues of MarketLife, an 8-page quarterly magazine (the summer/Christmas edition was 12 pages), which showed the passionate people who call the Market home. Bright, colourful, fun and easy to read, MarketLife was a hit with QVM traders and shoppers alike growing awareness and, ultimately, sales.
The outcome
The magazine grew from an initial distribution of 50,000 copies in the Leader group of community newspapers, to 102,000 copies through the Herald Sun and onsite at QVM. It became the basis for all QVM campaigns, with SMG responsible for implementing the MarketLife blog, QVM's corporate brochure, billboard and newsprint advertisements, and Market collateral—all designed to tie in with the magazine.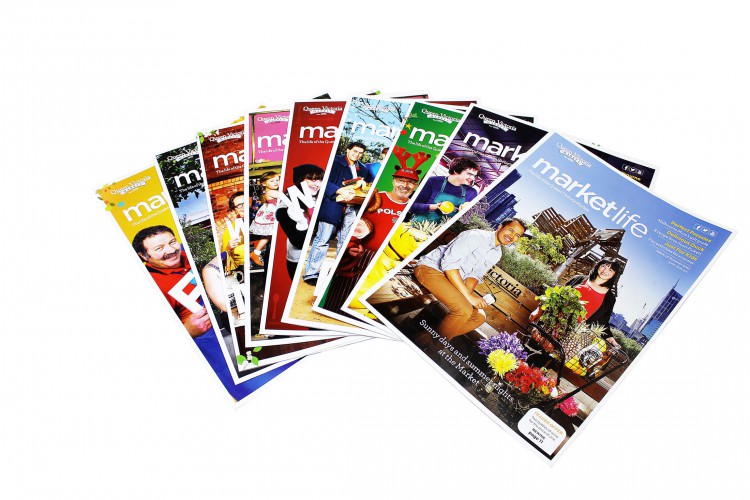 "Queen Victoria Market began working with The Slattery Media Group back in 2009 to launch the MarketLife magazine. The magazine is now a major marketing tool for us and an important addition to our marketing mix. The relationship has continued to flourish to the point that SMG is now working with the Market on other projects including placemaking and Market collateral."
Misti Dullard, Marketing Manager, Queen Victoria Market, 2013